The husband of a Tennessee police officer who was fired after allegations that she had sexual escapades with several male colleagues may not have supported her lascivious lifestyle.
An internal investigation by the La Vergne Police Department last month found that former patrol officer Maegan Hall had undisclosed sexual relationships with several male colleagues, including on-duty encounters. The investigation led to the firing of five officers, including Hall, and the suspension of three others.
The investigation said Hall told colleagues she was in an "open marriage," but her husband, identified by the New York Post as Jedidiah Hall, may not have supported her extramarital antics.
The investigation, released Dec. 28, details what allegedly happened at the party when Hall allegedly walked in on his wife, who was kissing the wife of former La Vergne patrol officer Patrick Magliocco.
TENNESSEE POLICE FIRED AFTER WILD ALLEGATION OF POLICE OFFICERS IN SEXUAL ESCAPADS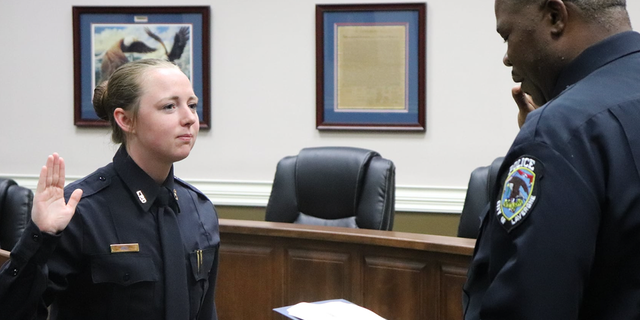 "Hall and Magliocco's wife began kissing and Hall's husband entered the room looking upset," the report said. The next day, "Magliocco asked Hall about her husband's reaction, as Magliocco was under the impression from Hall that her marriage was also open."
"He really wasn't on board," Hall reportedly told Magliocco.
Magliocco also admitted to having sex with Hall on "numerous occasions," according to the investigation.
Jedidiah Hall is a park ranger in Tennessee and married his wife in 2018, the Post reported, citing Maegan Hall's Facebook page. Her Facebook account has been inactive since Wednesday.
A blog post published in 2021 by Tennessee State Parks stated that Jedidiah Hall originally thought he would become a teacher after completing his master's degree at Middle Tennessee State University, but working at Henry Horton State Park one summer "changed" his life and he sought to become full time park ranger.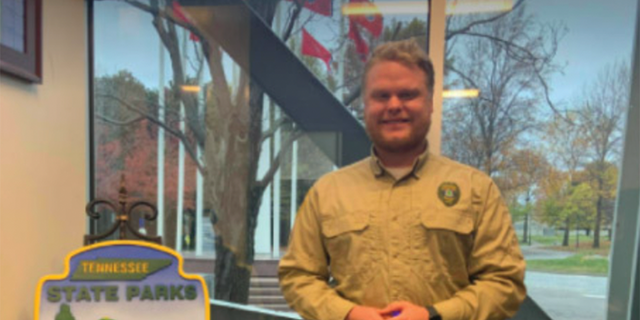 "Growing up on the trails and swimming in the river made me fall in love with our state parks and being outdoors," Jedidiah Hall wrote in a blog post. "When I got older and started working on my master's degree at MTSU, my goal was to become a teacher. However, the summer after my freshman year, I was hired by Henry Horton State Park as a Seasonal Interpretive Recreator. That summer changed my life and I decided to teach park visitors about the history and natural resources of Tennessee."
Fox News Digital attempted to reach Jedidiah Hall but did not receive a response.
COLORADO REPRESENTATIVE WITH ONLYFANS ACCOUNT LEAVES AFTER DISCOVERY BY OFFICER
The scandal has left suburban Nashville reeling, and the police chief has vowed to restore the community's trust.
Maegan Hall's lewd escapades reportedly included an alcohol-fueled hot tub party where she took off her top and two separate instances where she allegedly performed oral sex on two male colleagues. She was also accused of posting nude photos, participating in threesomes and even bragging about a colleague's "big black d—".
DETROIT COP FIRES AFTER DEPARTMENT DISCOVERING SITE ONLY RACA FANS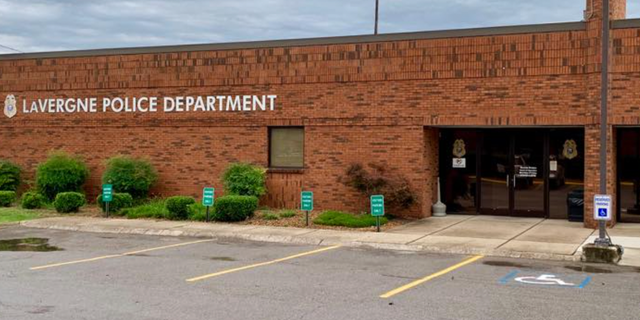 "This is a difficult situation for our department and for the city, but I want it to be clear that the actions of a few represent this department as a whole," Chief Burrel "Chip" Davis said in a statement provided to Fox News. Digital earlier this week.
The department is down nearly 12% of its officers after the scandalaccording to Fox 17, and now employs a total of 60 sworn officers.
In a recent statement, La Vergne Mayor Jason Cole called the scandal "unacceptable" and said an investigation was launched "as soon as" the escapades were brought to the city's attention.
CLICK HERE TO GET THE FOX NEWS APP
"Our top priority moving forward will be restoring public confidence," Cole said. "I have full confidence in the leadership of the police department and their ability to lead the department. We will retrain all of our employees in the rules, regulations and expectations set forth by the city government."