Looking for sensible yet sensational wearables and listenables? SENS is the answer for you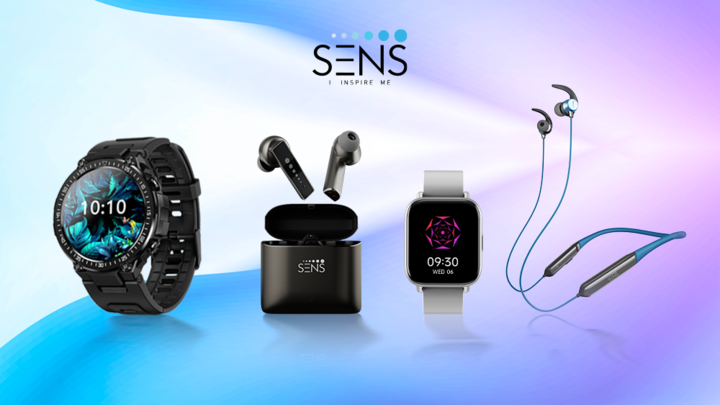 The hybrid lifestyle that we have adopted especially after the pandemic has created a need for products that are not only fresh, but also break away from excess. The essence of the need is also to find something that is affordable, has impactful features and offers excellent after sales service. As a result of this movement, the Indian market has evolved manifold, today it is driven by young millennial consumers who seek quality and uniqueness. And rightfully so, they demand products that are REASONABLE but also SENSATIONAL. Which basically means a combination of style and functionality minus a huge hole in their pockets. Now to deal with this, a new brand SENS has come into the market.
Keeping in mind the needs of today's smart device users, SENS has introduced a wide portfolio of 100% Made in India products, including smartwatches, TWS earphones and neckbands, targeting Millennials, GenZ and all who wish to purchase stylish yet high performance connected wearable devices.

Loaded with features and some industry first technologies, all SENS products are available at affordable prices ranging between INR 699* to INR 3099*.
SENS is backed by the renowned Jaina Group, which has more than a decade of experience in the mobile, smartwatch, wearable and consumer durables industries.

Sensational technology
The SENS portfolio includes some of the industry's first trademarked technologies for a superior user experience. One such technology is IIC™ (Intelligent Insta Connect), a feature that allows users to seamlessly pair their headphones as soon as they open the lid. Another feature is SVVC™ (Smart Video Voice Connect), which significantly reduces latency in select TWS and neckbands and supports seamless audio/video synchronization. SENS products will also come with a trademarked Quick Charge technology that will offer a quick charge option to charge the device to full capacity in record time. Along with this, the smartwatch portfolio comes with the latest technologies like AMOLED display, BT calling, Orbiter and more.
Interestingly, the brand has named all its products after famous scientists and artists. With enticing names like Edyson, MJ and Einstein, SENS products really make an impact with their higher download value. Here are some of the interesting ones that caught our eye –

Edison 1 A game-changer in its lineup, this smartwatch is an ideal choice for the style-conscious and fitness enthusiast at the same time. The watch supports Bluetooth calls, allowing you to directly answer calls from your smartwatch after pairing it with your smartphone. It comes with a premium IPS™ LCD display on a large 4.3cm (1.7) dial encased in a zinc alloy metal body that ensures it stands firm against trivial scratches. Apart from its unique AI-based voice assistance and various health monitoring features, the creators have also kept female customers in mind by including menstrual cycle monitors. You don't have to worry about battery life as the smartwatch comes with an exceptional battery backup of up to three days of regular use and 15 days of standby time. The smartwatch comes with a 220mAh battery and will be available in stunning Platinum Grey, Matte Black and Midnight Blue colors. Its pricing comes with a special launch value of Rs 1,699* exclusively on Amazon starting September 23, 2022.

Einstein 1 A favorite of every adventurer, the Einstein 1 is packed with a rugged design and some truly unique features. The smartwatch comes with a crystal clear Amoled™ display and a sleek 3.5cm (1.39) watch face. For people who love their music on the go, the smartwatch is an ideal choice as it can easily pair with TWS devices and also comes with local music storage and a built-in microphone and speaker. Not to forget that there are advanced health and fitness features like SpO2 monitor, sports mode and breathing mode. With a 320 mAh battery, the smartwatch will be available in two cool colors – Forest Green and Granite Black. Available at a special starting price of Rs 3,099* exclusively on Amazon starting September 23, 2022.

Hendrix 1 Named after the legendary rock star, the SENS Hendriks 1 is a premium yet affordable pair of TWS headphones that come in Gunmetal Gray encased in a metal housing. This is a boon for music lovers and commuters who are always tuned to their favorite music. With its playback time of up to 30 hours and quick touch response, this is one accessory you'll want to have with you at all times. A seamless audio experience awaits you as Hendriks 1 comes with voice assistance and 10mm graphene drivers. Hendriks 1 will be available at a special starting price of Rs 1,699* exclusively on Amazon starting September 23, 2022.

MJ2 Users generally prefer neckbands because of their sleek look, wireless design and longer use. Addressing such needs, the MJ2 comes with advanced connectivity, audio and charging features. What makes the MJ2 special is that it comes with all three SENS trademark technologies – AFAP™ (As Fast As Possible) charging, SVVC™ (Smart Video Voice Connect); and IIC™ Instant Connect (Intelligent Insta Connect) technology. In addition, it also has 12 mm dynamic drivers and Environmental Noise Cancellation, a technology that blocks external noise, improves sound quality and excels in ear care. The MJ2 is priced at Rs.1199* and hence quite a bargain!
SENS products will be available exclusively on Amazon from September 23, 2022 at special launch prices for a limited time. For more information and the latest updates on these products, follow SENS on Twitter, facebook, and Instagram.

*Prices mentioned above are special introductory prices only

Disclaimer: This article was prepared on behalf of SENS by the Times Internet Spotlight team.
FacebookTwitterLinkedIn
---