If you're like most people out there, you've probably made a New Year's resolution – and let me guess, it has something to do with health and fitness, right?
I also set this goal, but when I went back to school I started to panic about how I was going to balance a healthy lifestyle with all the schoolwork I would have to do during the semester.
In the fall semester, I fell out of my routine and lost a lot of progress. So I intend to get back into better shape and a healthy diet so I can start this year off to a full start.
Follow me if you're interested in doing the same and see what things I do to get back into a healthy routine.
"New year, new me" means nothing anymore. From now on we say, "New day, time to kill."
Compiling training sessions for each day
Everyone has their own definition of fitness, so I am in no way telling you that you have to follow what I am doing or that what you are doing is wrong. You do what suits you.
My fitness plan is set to five days a week. Mondays are for my chest and shoulders; Tuesdays are back day plus ab workout; Wednesdays start with cardio followed by legs; Thursdays are a day off and Fridays are a light leg day with an ab workout.
I also try to stretch and do yoga on Sundays. It makes me feel ready for the week and your muscles feel good too.
Don't forget that walking to and from class on this large campus also counts as your steps for the day. I have to walk at least two miles on Thursday because my classes are all over the place.
Drinking more water
I don't drink as much water as I should. Maybe I only have about one large water bottle full of water a day.
My goal is to increase this amount to at least two full-sized water bottles per day. I keep hearing that water has so many benefits so I want to stick with it to see what happens.
Eat more protein and carbohydrates
No matter where you live, there are plenty of dining options downtown and in cafeterias.
I live in South Halls so I get most of my meals from Redifer Commons. I like to eat different types of pasta to get carbs in because that's how our bodies get energy and we use it to train.
For protein, I like to have grilled chicken with vegetables like zucchini or green beans. I also love the chicken bowls from Market Pollock Asia Kitchen. I usually have lemongrass chicken with lots of rice and feel good after eating it.
Eating healthy is important during school because it gives us the energy we need to get through the day and sit through class.
Please remember to eat your daily allowance of fruits and vegetables, and if you don't feel like eating them, at least take some vitamins.
Getting up early
No more sleep, sorry – but not really.
During the week I get up at 7am to start the day. I get up and start my skincare, pick out my outfit, pack my backpack and head down to the Commons for breakfast.
I'm not a morning person, but getting up early is a game changer. You can do so much more.
When you're so busy with school, you don't always have time to take a long shower or do laundry, so taking a little extra time in the morning will help you squeeze in a lot more.
Also, try not to stay on the phone too late to get at least eight hours of sleep.
Buy a planner
This is how I organize my whole day.
I buy hourly planners so I can plan when I wake up, when I exercise, when and what I eat, homework, and so much more.
It forces me to think about what I want for myself and establishes a healthy habit of checking everything. By setting a time for each day, you can balance everything you need. That way there is an equal amount of school and health.
Again, this is exactly what I do. You are your own person, so please do what suits you. "You got it, dude," — and I'm saying it in the voice of Michelle Tanner from "Full House."
MORE LIFESTYLE CONTENT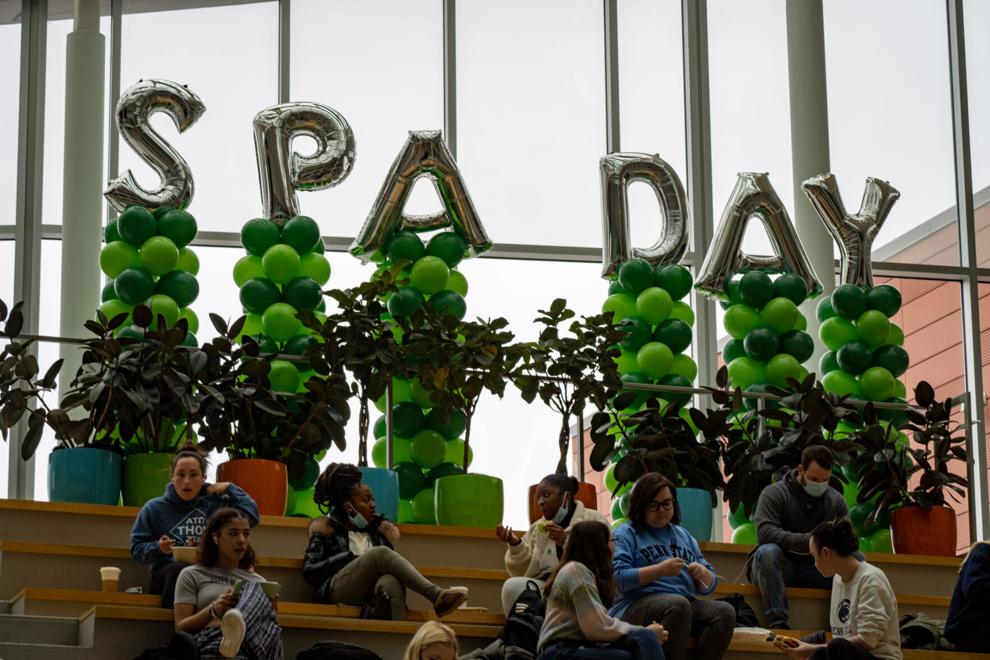 Penn State SPA has announced its itinerary of events for the upcoming "SPA Day," which will…