Bin the heady days of 2012, my partner and I had just fallen in love. We recently returned from a month in Thailand, life was the beach and when we got back we couldn't believe the breakneck pace of city life. "Forget it," we thought. "We are beach people.
Our budget meant we couldn't afford to live near the ocean—at least not where we liked it. But a wider search revealed a hidden gem: a mystical cove with a house that boasted its own private beach. Although we had never heard of it, this pocket of paradise was close to family, half an hour from both of our hometowns.
We drove there with stars in our eyes and after a scenic walk to the end of the pier they put in an offer for a two bedroom place. We didn't need to look inside. He had a rubber tree that captured our hearts. Everything was rosy and it seemed that fate was in our favor.
The morning after moving, we had a hearty breakfast and went for a walk in our new neighborhood.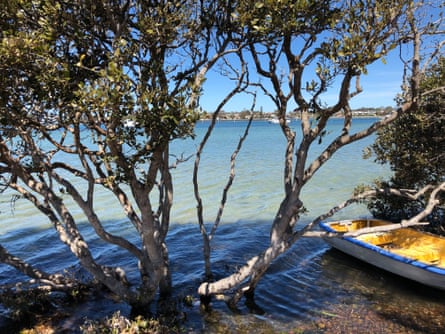 We were joined by one of the two friends who came to help us get settled. The second was to run in the morning. We say goodbye to her and smugly leave.
Although it wasn't strictly our private beach, we didn't see another person. It was great to stretch my legs and shake off the stiffness and stress of moving day.
Up on the sand we came across a sweet rowboat. I think it was at this point that I casually asked if we should go back. After all, our friends had commitments in town and a long way to get there on time.
But our friend wanted to see the jetty and suggested we go on. I will always look back on that moment and remember our choice. A choice that made us swamps.
It didn't take long for the sand to become a bit muddy. What an adventure! I have never seen a beach like this before, we thought.
That's when I started getting that sinking feeling. You know the one where you realize you're actually diving. Knee-deep in farting mud, harkening back to the traumatic death of the horse Artax in The Neverending Story.
Being the largest in the group, I sank the fastest. I needed some help from my lighter contemporaries. We couldn't stop laughing. Maybe out of hysteria. Or could it be how my thighs almost disappeared?
Quicksand never felt like a real concept until this point. As my partner and my friend jerked me hard under the arms, I managed to twist one leg free. I grabbed onto the mangroves to use leverage.
When I finally broke free, we were all sweaty and muddy, still in fits of weird laughter. We realized we had gone too far. We were surrounded by mud, but it seemed only about 20 meters to the next sandpit.
At this point we also realized that our private beach was not so private. Various neighbors were dotted along the bay, sitting on lounge chairs, laughing and pointing at us as we crawled on our hands and knees (it was the only way not to sink again). Was it some form of bullying? Were we doomed to be swamps for the duration of our natural lives?
There was nothing to do but to swim across the bay, fully clothed. I first set out with one of our dogs, Happy Jesus, who was too scared by all of this to handle it on his own. I held the phone above my head to call our other friend for rescue.
Our other dog, Clem, did a few laps back and forth. It was his best day.
I finally got through to our friend and suggested she bring us tarps to sit on so her car wouldn't turn into a swamp of eternal stench.
This dramatic beginning was the perfect prequel to the two years we spent in that swampy seaside town. The one that was in our budget.
Yes, it was Aldi Beach. But there was more loot in the middle lane than we could have ever imagined.